For today's Q&A I have a question that I had recently, with the solution!
I recently held a Stamp-A-Stack in my home where we used the And Many More stamp set in wood mount. During my classes, I encourage my attendees to change the sentiment for their cards to be what they need, so I get out many stamp sets with lots of sentiments. The wood mount stamps in the new wood mount cases can be tricky to fit back into the box, if it's a tight fit.
I searched Pinterest, YouTube, and the Stampin' Up! demonstrator website but couldn't find the answer to "How does "And Many More" fit back into the case?"
It took me a few minutes, but I got all the stamps to fit easily into the case, so I wanted to share the photo so you don't have to have the same problem! Check out the photo, click it to make it larger, and/or print it to mount inside your case.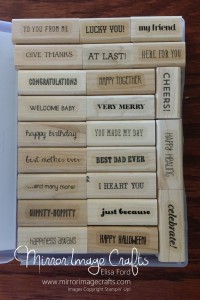 Bonus answer: "How does "Teeny Tiny Wishes" fit back into the case?"