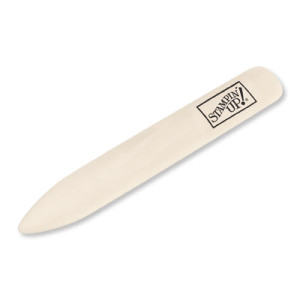 The Bone Folder (102300) is a must-have tool for any card maker. It makes the creases on your card look nice, while saving your fingernails from certain damage. Did you know that there are other uses for this handy tool?
Use your Bone Folder to create score lines on cards or other projects. If your paper trimmer doesn't have a scoring blade, or you've misplaced it, then your Bone Folder fills in nicely. Just run the end of your Bone Folder over your card stock in the groove of your trimmer. If you've misplaced your stylus for your Simply Scored Tool, grab your Bone Folder and use with the scoring tool, too.
Use your Bone Folder to curl your card stock. On projects where a subtle curl is required, the Bone Folder works really well. Gently move the side of the Bone Folder over the card stock you wish to curl.
Use your Bone Folder when you re-ink your firm foam ink pads. After you add your drops of re-inker to the top of your ink pad, use your Bone Folder to smoosh the ink into the firm foam for even coverage.
In a pinch, I've even used my Bone Folder for measuring. At 6-1/16″ long, you can use your Bone Folder to measure card stock or ribbon that needs to be approximately 6 inches long.
It's such a handy tool with a variety of uses. Have you used your Bone Folder in a way I haven't mentioned? Let me know in the comments!