In this fourth post in my "Storage Series" I share how I store all of my paper crafting embellishments.
I don't have tons and tons of embellishments to store, so this works great for me. I have 3 different areas in which I keep my buttons, ribbons and other small embellishments: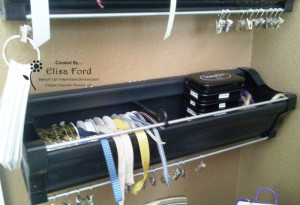 First, my ribbon is kept in these cool ribbon trays mounted on my wall. I'd tell you more about them, but I'm pretty sure they are no longer available.  I wanted ribbon storage that was NOT on a spool, so I wouldn't have to UN-SPOOL everything just to take ribbon to my craft table or to a workshop! I have two of them (which I will eventually fill, I'm sure) but I really don't have much in there yet. I keep my current Stampin' Up! ribbon, ATG refills, and (for now) my StazOn ink in the bottom tray. The top tray (not shown) has all my retired SU ribbons, and a couple of non-Stampin' Up! items.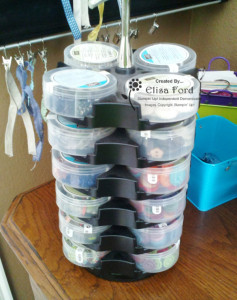 Second, I have the Stack and Store Caddy from Stampin' Up! I love this item. It holds all of my buttons, brads, and other small embellishments in the containers they come in. I haven't quite filled this up, but I am working on it!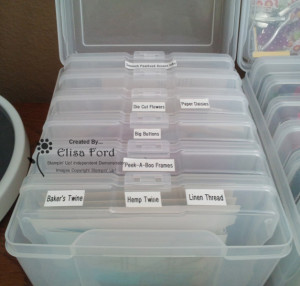 Finally, I keep some items in these fantastic containers from Iris. They are designed to hold 4×6 photos, but I rarely use them for that. Instead you'll find my rhinestones & pearls, baker's twine, large buttons (too big for the Caddy) and other doo-dads that fit into the boxes. Then I keep them in the bigger box on my dresser, labels up, so I can easily find what I need!
So, that is about it for my embellishments! I really don't have a bunch, as you can see, but I've designed my storage to be able to accommodate additional supplies.  I'd love to hear how you store your embellishments (in the comments!), or ask me any questions you might have!