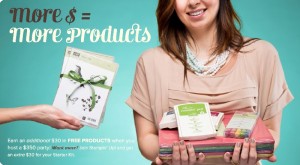 Calling all Stampin' Up! fans! Get more when you are a Hostess this month!
Now, you won't have time to schedule an in-home workshop before the end of the month, since those take weeks of planning, but you CAN have a Catalog Workshop to take advantage of this special!
Contact me about having a Catalog Workshop that will close by May 30, and I will get you all the information you need, including your Hostess Code. The Hostess Code makes it SUPER EASY to have a Catalog Workshop (or any workshop, actually) because your "guests" can place their own order online and have it sent directly to them! This means, no matter where your "guests" live, they can easily participate in your Catalog Workshop without YOU having to deliver their Stampin' Up! goodies to them!
Promotion Details:
When your Workshop Total reaches $350 you get an additional $30 in free merchandise. That's on top of all the Hostess benefits you already receive based on the workshop totals.
This promo ends on May 30th, so your Workshop would need to close on or before that date.
The sooner you get your Hostess Code, the longer you will have to collect orders to reach your goal. Hostess Codes are only good for 30 days.
I hope you will take advantage of this opportunity to get MORE when you Hostess this month! Have a crafty day!