This is a really quick, but really cute, digital scrapbook page made using My Digital Studio (MDS). The hardest part will be selecting your photos! This page sketch would be just as simple to create using your favorite non-digital designer papers & some circle punches.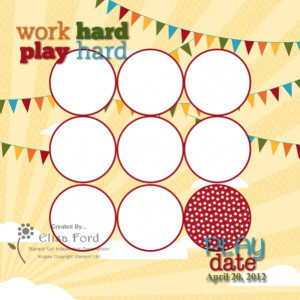 SUPPLIES:
My Digital Studio (130647 disk, 130646 download 130910 30-day free trial), Big Top Birthday Designer Series Paper (123138), So Typefelt stamp brush set (128884), Get It Done Kit (129924)
INSTRUCTIONS:
Open a new 12 x 12 blank page in MDS
Add the background paper – pattern 12 from the Big Top Birthday DSP
Choose a photo layout – if you don't have the one with the 9 circles, you can create it by making one circle photo box and copying/pasting until you have all 9. Use the "align" tool to line them all up in a square.
Fill the photo boxes with photos, journaling, or other embellishments. In the sample I put the Big Top Birthday DSP in the bottom right circle – pattern 2.
Add a Real Red "mat" to all 9 photo boxes.
Add the "work hard play hard" stamp brush image from So Typefelt and size how you'd like it. Color each of the individual words by using your "coloring tool." It's the digital version of using Stampin' Write Markers!
Use a text box to add the word "play" and the date of your event. Use the stamp brush word "date" from the Get It Done kit. Layer the words until they are placed how you like. Color them to coordinate with your project.
Add a "drop shadow" to all of the words & stamps on the page and you're done!
I hope you've enjoyed this MDS Digital scrapbook sample. Contact me with any questions!