I recently learned how to make this really fun and suprisingly simple Never-Ending Card.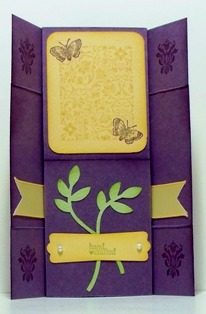 Panel 3
 
 
It's called this because of the way you open it… and open it…and open it… and so on.  It just never ends!  Because I enjoyed it so much, I've decided to plan a class for you. The project we make for the class may vary… I haven't decided! (Come to the class to see all 4 panels)
The class date will be Friday, June 10, 7 PM. Class fee is $15. You will leave the class with a template to take home with all the measurements and a fully completed card.  Register to attend by June 3rd, either by emailing me and making payment arrangements or using the PayPal link below.
Happy Crafting!
~Elisa