First, I have to say HAPPY BIRTHDAY to a lifelong and dear friend of mine who is celebrating today! Jennifer, may God grant you a year full of blessings! I love you!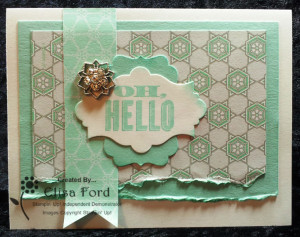 At the scrapbooking retreat I went to at the beginning of this month, I made lots and lots of handmade cards and other projects. Pictured above is a beautiful card that I made using the Winter Frost designer series paper in the Stampin' Up! Holiday Catalog.
There's a lot that I love about this card, but easily my favorite part is the Frosted Finishes embellishments! WOW! It just adds such a special touch to any project for the holidays!
I'd love to hear what you think in the comments. Also, let me know if you have any questions. Happy Crafting, my friends!