Becoming a Stampin' Up! Demonstrator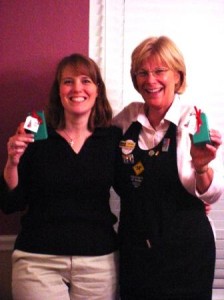 I've been a Stampin' Up! Demonstrator for over 8 years now, and it's been a really fun experience. I went into the opportunity as a way to have my own business doing something I love and love to share with others. It has also been a great bonus to get a discount on crafting goodies I would have purchased anyway!
But the nice thing about being a demonstrator is that it is YOUR business and it can look however you want it to look!
Own your own thriving business in the craft arena
Spend time with ladies who love to stamp & scrapbook
Share business ideas, as well as creative ideas
Save money on your own Stampin' Up! goodies
Enjoy the many perks of being a demonstrator
Support your family – or simply your hobby
Get paid to share what you love!
Click HERE to get started as an Independent Demonstrator! 
If you have ever considered joining Stampin' Up! (even just a  little) then let's chat over coffee while I answer ANY and ALL  questions you might have! Contact me today!
What is Girls, Ink!?
Girls, Ink! is a fun group of Stampin' Up! demonstrators residing mostly in North Texas (with a few ladies in other states!) who love to get together and plan events for you! We meet once a month to discuss our Stampin' Up! businesses, share projects with one another, learn new techniques, and enjoy the occasional card swap.  If you want to learn more about this group and how Stampin' Up! could fit into your life, contact me for more information.  I'll bring you along to a meeting with no strings attached!