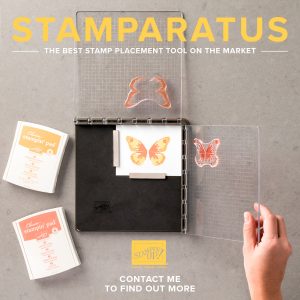 Why do you need a Stamparatus? This great tool helps anyone get crisp, clean stamped images; plus, you can make multiple projects in minutes—with an accuracy and consistency that makes stamping easier than ever before.
Compatible with red rubber and photopolymer stamps
Easily create 2-step, 3-step, and 4-step stamped images
using reversible plates
Two open sides so you can use larger paper
Make fewer mistakes, saving time and money
If you want a darker impression, apply more ink—
no need to start over
Fall in love with stamping all over again!
This tool will be available in the Annual Catalog in June 2018 – HOWEVER – you can reserve yours from December 5-30, for delivery beginning in spring!
So, you can get your hands on this amazing tool BEFORE it's available in the catalog!
View this attached PDF for how to reserve yours TODAY!
Please contact me with any questions!