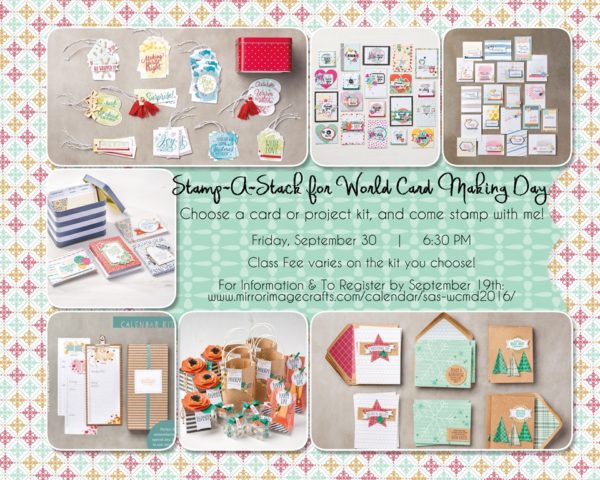 What is Stamp-A-Stack?
Stamp-A-Stack (SAS) is a card class held in my home where you make cards or other projects. The choice is yours!
You don't bring any crafting items with you – all supplies are included.  All you have to do is CHOOSE YOUR KIT and come stamp with me!
I've scheduled this class on this specific date to celebrate WORLD CARD MAKING DAY, which is Saturday, October 1, 2016!  I will also have refreshments & door prizes, to make the evening even more FUN!
WHEN: Friday, September 30, 2016 – 6:30 PM
WHERE: My Home Craft Studio – If you need it, I will give you the address when you register!
COST: Class Fee depends on the kit you choose. Club members will receive a discount!
IN ADDITION: All attendees will receive a free gift from me; I'll also have door prizes and refreshments!
Here Are the Kits for Stamp-A-Stack!
Registration Information!
Register to attend NO LATER than Monday, September 19th.  This gives me the time I need to order your project kit any other necessary supplies.
Your payment confirms your registration. Contact me via email to make payment arrangements if not using the PayPal link below.
elisa@mirrorimagecrafts.com     |     214-284-4079     |     www.mirrorimagecrafts.com