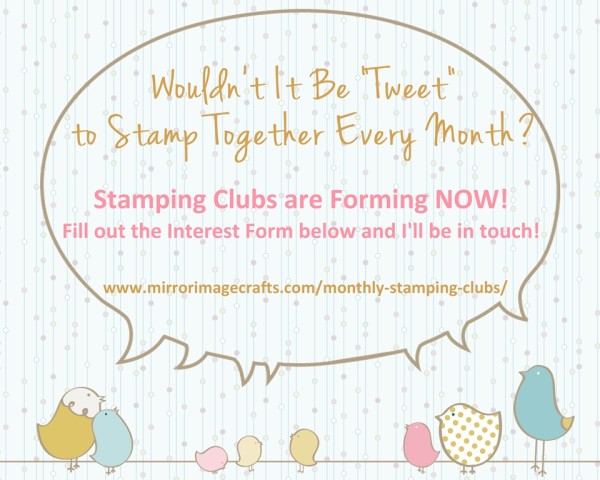 JOIN A STAMPING CLUB TODAY!
Six stampers – for more personalized attention
Dedicated monthly crafty time
Two projects at every club meeting
Stay on budget – build your stamping supplies little by little
All current Stampin' Up! Catalogs as they are released!
Meet in my Stampin' Studio – no Hostess stress for you!

At least

$20 in FREE stamping supplies during your month as "Hostess!"
Set of 7 Custom Card Cases ($40 value!)
Form your own Stamping Club with you and your friends, or join an *existing club to make new friends.
A Stamping Club can begin at any time during the year… We just need SIX stampers to start!
*(Existing club meets at 7PM on the 2nd Friday of each month!)
If a Stamping Club sounds FUN… Click here to fill out the Interest Form!
(Interest form doesn't commit you to Stamping Club – it just helps Elisa see how many people are interested and their availability!)
elisa@mirrorimagecrafts.com    |    (214) 284 – 4079