In this post, which I like to call "CASE the Catalog," you will see just how valuable the Stampin' Up! catalog can be as an idea book.  CASE stands for "copy and steal everything" and is a commonly used term in the stamping, scrapbooking & papercrafting industry.  CASEing is perfectly acceptable, as long as you give credit where credit is due!
In this sample, I've used the 2010-2011 Idea Book & Catalog from Stampin' Up! for my inspiration.  On page 96 in the IBC, and highlighting the adorable stamp set called Fox & Friends (W117020, C118565), I've recreated the card at the top of the page.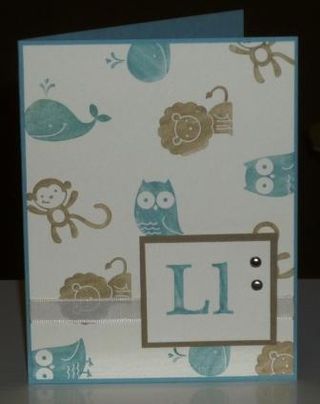 I've made only subtle changes on the card.  I've used an "L" rather than an "A" image, but both use the stamp set called Defining Alphabet (114952) on page 160.  I've used a different color brad on my card, and I've omitted the scalloped accent.
In future "CASE the Catalog" posts, you will see just how different my projects can become from their original ideas!  Contact me if you need a catalog, or view the catalog and samples online!
Where do you LOVE to get ideas from?  Share with me in the comments!
If you have a project you would like to see featured on my website, then please let me know! I'd love to have you as a "guest blogger" some time!
Happy Crafting!
~Elisa