I have become a HUGE fan on digital scrapbooking and crafting. Stampin' Up! recently released an update to My Digital Studio, called MDS2 – and I am hooked!  It is so easy and fun…
And now, Stampin' Up! is about to have a 50% off sale on select kits AND free downloads!  I can't wait!
From October 29 – November 5, check my online store for your free downloads – there will be THREE and you can have all of them! However, if enough people download the 3 free items, SU will offer a 4th one!  Click the picture below to visit my online store and get your FREE Downloads – and shop for the 50% off items!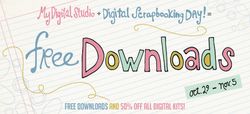 Click here to download the list of FOR SALE digital kits, in PDF.
Happy (Digital) Crafting!
~Elisa