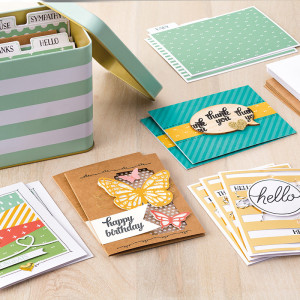 Don't purchase the Tin of Cards kit without reading this!
I recently put my cards together and noticed a few challenges. I found that if you follow the instructions included with the kit, you might become frustrated like I did.
First, there are a couple places where Stampin' Up! recommends that you use StazOn ink. I suggest that you instead use Memento ink! StazOn will not only stain your photopolymer stamps black, over time it will ruin the photopolymer. That said, I understand why they suggest StazOn for stamping on the wooden embellishments – the image will be cleaner, with no bleeding. The minimal bleeding doesn't bother me as much as the stained stamp does, so the choice is yours!
Second, there are times where Stampin' Up! recommends that you use SNAIL adhesive, where I had better luck with Multipurpose Liquid Glue.
The Tin of Cards kit is really cute, and I love the tin to organize cards. Just make sure to carefully read through all of the instructions before completing each card – and contact me with ANY questions you have!
Here is the video from Stampin' Up! about the Tin of Cards kit and stamp set, with a few more pointers: