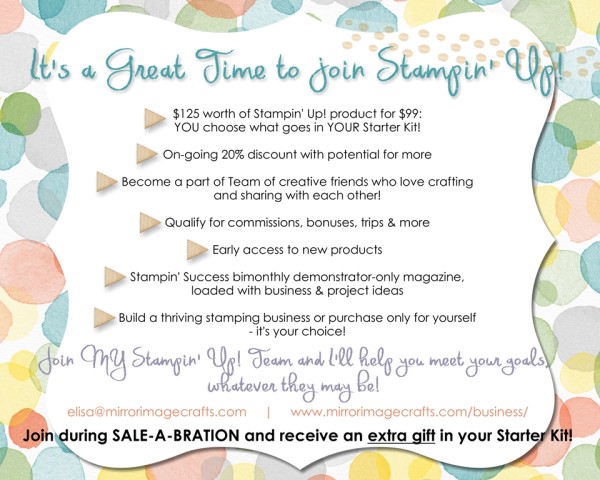 Meet the ladies of Girls, Ink! and get ALL your questions about joining Stampin' Up! answered!
We'll have a Make & Take project for you, as well as some super-cute samples.
Following the Opportunity Night meeting, stay for our Girls, Ink! meeting to see what those are all about!
DATE: OUR FEBRUARY 23rd EVENT WAS CANCELLED. NEW DATE TBA!
TIME: 6:30 PM
LOCATION: Sachse Public Library (3815 Sachse Road, Sachse, TX 75048)
RSVP: Email Elisa to let me know you'll be there!
BRING: Any questions you have about becoming a Stampin' Up! demonstrator
If this date does not work for you, then please contact me! I am happy to meet with you another time. Girls, Ink! will be scheduling additional Opportunity Nights throughout 2015, too!
Elisa Ford, Stampin' Up! Independent Demonstrator   |  elisa@mirrorimagecrafts.com   |   214-284-4079
Girls, Ink! is a fun group of Stampin' Up! demonstrators residing mostly in North Texas (with a few ladies in other states!) who love to get together and plan these events for you! We meet once a month to discuss our Stampin' Up! businesses, share projects with one another, learn new techniques, and enjoy the occasional card swap.  If you want to learn more about this group and how Stampin' Up! could fit into your life, contact me for more information.  I'll bring you along to a meeting with no strings attached!