Stampin' Up! catalogs are a great way to find ideas for new handmade cards, scrapbook pages or other projects.  I love to use my catalogs to get new ideas, and change them up (a little or a lot) to suit my supplies and my taste.
A few months ago, I used this scrapbook page from page 28 in the current Stampin' Up! Idea Book & Catalog.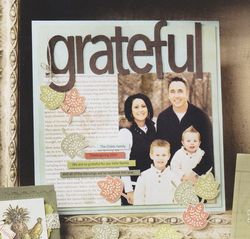 And I turned it in to my version, which is larger (because I usually scrapbook in 12×12 rather than 8×8) and obviously used a different background color.  And as you can see, I still need to pick the perfect photos to place on MY page!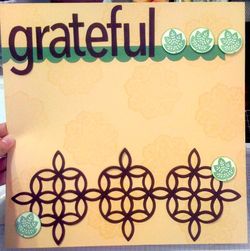 I did use the same stamp set called Day of Gratitude (121148 CM, 120835 W) and the same alphabet, Simple Letters Alpha (115960) with the Big Shot Die-Cutting Machine (113439).
So, you can see how I took the original idea and made some changes to it to reach a totally new result.
Stamping and scrapbooking do not have to be difficult or time consuming endeavors.  Let me show you and your friends simple tips, tricks, and techniques to make the most of your time and supplies!  Contact me TODAY about having a Stampin' Up! party!
Happy Crafting!