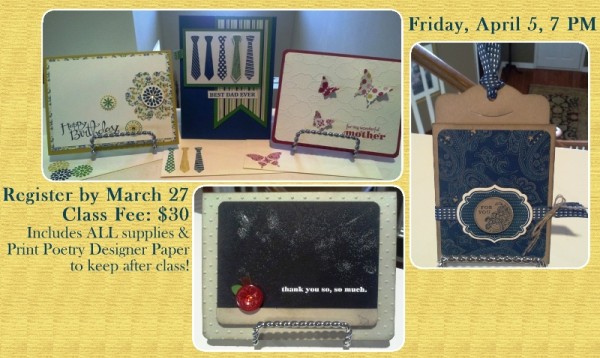 I am REALLY excited about my next class, "Spring Into Summer," coming on April 5, 2013! I hope you will join me to make the projects pictured AND one that isn't (yet.)
Visit my information page for more details and for the link to register to attend.  I need to know if you are attending no later than March 27 in order to prepare for you.  If you cannot make the class on April 5, contact me about purchasing a kit I can send you after the class is over.
The projects for this class can be customized to meet YOUR needs – if you don't need a "teacher" card, you can certainly adapt it for your favorite student.  If you don't need a Mother's Day card, you can make yours a birthday or thank you card.
Contact me with ANY questions you have about this class.
See you soon!