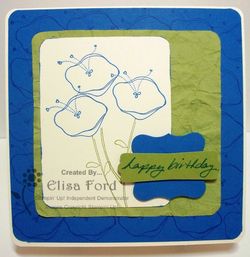 This lovely square-shaped card features two-step stamping, the faux suede technique, and using your own handwriting on a card!
Two-step stamping simply refers to a stamp set where there is usually a background image, then you stamp over it with a secondary image.  The set Awash with Flowers (W117062)(C120549) fits this category.  However, in this card, two-step stamping refers to stamping the flowers and then the stems for 2 steps!
To make the Old Olive square behind my stamped piece look like suede, I took a piece of card stock and crumpled it up, over and over, until it became very soft.  Then I carefully pulled the card stock apart until I had two pieces.  The inside looks a bit like suede when you do this.  It's a nice and simple technique!
Finally, I know it's unusual to write your sentiment on your card, but why? It's great if you don't have quite the right sentiment or if you simply want a more personalized card.  Afterall, if we aren't afraid to journal in our scrapbooks, we should be just fine writing on our cards!
To see lots of card and other projects, and keep up with the latest techniques and classes, make sure you join my mailing list.  There is a sign-up box in the upper left corner of my blog for your convenience.  You will get an email right away asking you to confirm your membership (because I am not a spammer!) and then you will receive my monthly newsletter, class announcements, special offers, and you will be in my Birthday Club!  Contact me with any questions!
Happy Crafting!