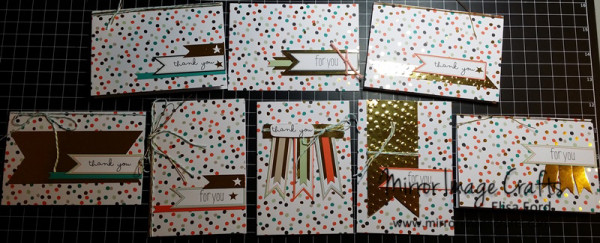 In this "Spotlight on Sale-A-Bration" I wanted to share what I've done with my Good as Gold Simply Sent card kit.
The kit comes with supplies to create 8 cards and instructions on how to put them together. The idea behind this kit is that all 8 cards end up looking basically the same, just with different colors and sentiments.
Instead of just following the suggested card idea, I created 8 different cards with my kit, by essentially using only what is in the kit. I did add some twine from another Sale-A-Bration item for one of the cards, but you certainly don't have to!
And I still have some gold elastic cord and Bermuda Bay baker's twine left over, as well as a few die-cuts and gold foil!
COMMENT below or on my Facebook page, and I'll send you a PDF handout with individual photos ALL 8 cards I made using this kit.
Don't miss out on the Good as Gold Simply Sent card kit! It can be yours for FREE with a qualifying order, but only during Sale-A-Bration 2014!
BONUS: My digital version of this card kit!