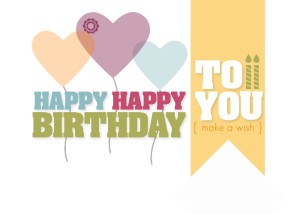 Today I wanted to post briefly about my Birthday Club… because I have THREE customers celebrating their birthday today! Happy Birthday, Kristie, Lindsay & Mary Ellen!
Basically, if you are a customer of mine, on my email mailing list, and you've provided me with your date of birth (year not necessary!) then YOU are IN the Birthday Club!  If you aren't sure, then check my Class & Event Calendar, where I list birthdays of Club Members who meet the criteria.
During the month of your birthday, you will receive a card from me in the mail (if I have your mailing address) reminding you about your Birthday Club Savings.
Birthday Club members can place an order with me any time during their birthday month, and receive 10% off their order! It's just that simple!
Currently, I have no way to give the 10% discount on an Online Order in my Online Store… so you have 2 options:
Option 1. (preferred) – Email me with your order, or give me a call. I will place the order for you, and automatically give you the Birthday Club Savings!
Option 2. Order through my online store, paying full price, and email me to tell me that the order you placed is for your Birthday Club Savings. I will then reimburse you for the 10%.
If you check my Class & Event Calendar and DO NOT see your name on your birthday, then you are probably NOT on my email mailing list! This is super-easy to fix! Simply fill out the form on the top left corner of my website, check your email for a confirmation, then follow the instructions to begin receiving my email newsletters and become a member of the Birthday Club!
As always, contact me with any questions!