World Card Making Day is Saturday, October 5, 2013!
To celebrate, I'm holding a card making event… Stamp-A-Stack!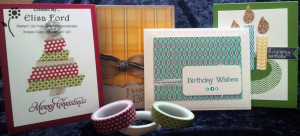 Stamp-A-Stack for World Card Making Day is Friday, October 4, from 7 PM to 10 PM (ish). Visit my information page for more details and to register to attend no later than Tuesday, September 24th.
Now, I've held Stamp-A-Stacks before, but for World Card Making Day, I'm making this one extra special!
We will be making 16 cards – 4 each of 4 designs – all supplies included.
I'll have loads of display samples for you to get inspiration (bring a camera!)
You can choose to bring 2 handmade cards – one to donate to Ronald McDonald House and one to swap with another attendee! Swap participants will receive a gift from me!
Everyone who attends will receive a package of Season of Style washi tape!
Door Prizes will be awarded!
Refreshments will be served!
I do hope you will join me for Stamp-A-Stack for World Card Making Day! Let me know if you have any questions!