This & That, a new product offering from Stampin' Up! is here! It's a "make it your own" journal notebook, that you can customize to your needs and decorate in any way you'd like!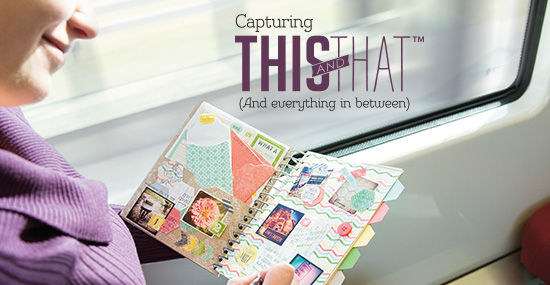 This & That Informational Flyer from Stampin' Up! (PDF)
I just got my This & That (and I got the whole kit bundled together & saved 15%! – bundle only available through April 30, 2013) and got to thinking about ALL of the different ways to use this fun notebook:
diary/journal, dream journal, engagement/wedding/baby journal, vacation journal, vacation planning, quotes & inspirational items, favorite Bible verses or verses you are memorizing, daily random stuff, pinterest ideas, goal setting, fitness journal, gratitude journal, pregnancy journal, year keepsakes/memories, gift for friends or family, sewing ideas/journal, home projects, work projects, big book of grievances, mini album for you or a gift, college visits, new college student journal, clubs & organizations (ideas & keepsakes), card or scrapbook layout ideas (sketches), to do lists (daily or specific projects), calendar, recipes, meal planning, shopping lists.
PHEW!
Well, those are MY ideas, and I am still not sure just what I will use my own This & That notebook for…
What would YOU use it for?
What ideas did I leave off my list?
Let me know in the comments!
To order your This & That, visit my online store. And as always, let me know if you have any questions!