As those of you on my mailing list know, I'm having a very fun class later this month…  We will be making these projects in my Blossom Petals Class!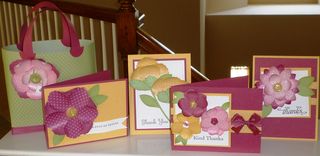 I have 3 class dates scheduled, and the first date is already full!  So, if you plan to attend this class, sign up soon to make sure you get in!
Available class dates and times now are Tuesday, April 26 at 7 PM & Saturday, April 30 at 2 PM.  If neither of those dates work for you, I'm willing to offer the class at another date and time that does work for you if you can guarantee 4 – 6 attendees.  All classes are at my home, so if you need directions once you register then let me know!
Visit the class page for more information, and to register by April 8th!
Happy Crafting!
~Elisa