I'm back from my mini-hiatus and ready to show you some really cute projects that my sister and I created over her spring break!
Up first, is my On Board chipboard (114320) project, using the Big Shot  die-cutting machine (113439).  I recently ordered some sheets of the On Board chipboard specifically to try it out on my Big Shot.  I think my project turned out very cute, even though some of the items I used are "retired" items.  I think it is very fitting for spring & spring break!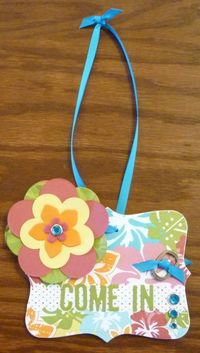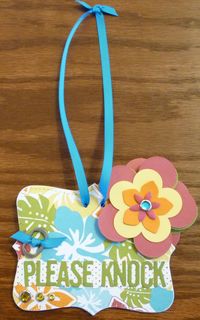 I love the Top Note Die (113463) so much – it's very versatile!  It's beautiful on scrapbook pages & cards, and I've used it to make lovely 3D projects like boxes, bag toppers, and table placecards.  If someone made me choose only one die, then this would be it!
The On Board chipboard pages come in a package of 6, 13-3/4"x5-3/4" sheets, already sized to run through the Big Shot.
Some of the other items I used for this project: Circle Ice Rhinestone Brads (109111), Circle Fire Rhinestone Brads (109110), Billboard Sizzlits Decorative Strip Die (114510), Rose Red, Pumpkin Pie, So Saffron & Old Olive Card Stock. The rest of the items I used are "retired" so if you need to know what they are, just email me or message me in the comments.  Funny story… I had to add the metal pieces on each side of the project because of the big flowers at the top.  It was tipping to the side and the metal balances it so it hangs straight.  It gave me a cute place to tie a ribbon knot, anyway!
I hope you enjoyed this project.  Watch for more very soon.  We created a LOT of cute projects!
Happy Crafting!
~Elisa