Well, my office/craft room renovation is still going strong, so I'll pause to get you caught up on the action!
I had planned to sell the craft table you will see in these pictures, until my sweet husband found the shelves that matched them nearly perfectly.  So, I only moved furniture around for this part.
Here is my craft table, originally in the corner of the room, on the wall with the door.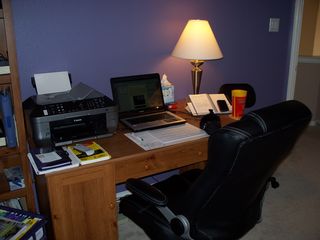 Now it is on the same wall, but more in the middle. There is still plenty of room to walk into the room, and right now I have a chair next to my desk (just in case someone wants to visit me.)

 My bookshelves, right inside the door.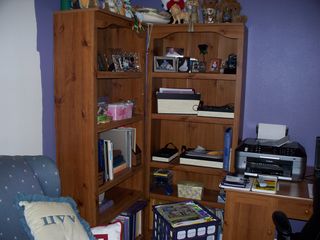 New location of the shelves, in the corner where my craft table used to be.
I hope you all notice the lovely line where my painting stopped! Yes, it's beautiful!  Here is why I can't paint right there for now: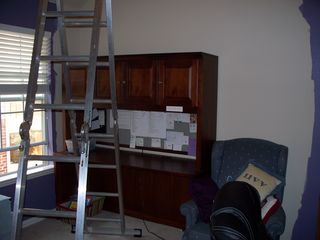 Not only is the desk preventing me from finishing my painting project, I also have to wait to hang my lovely new curtains.  In other news, this desk is for SALE – as soon as my husband tells me how much he would like for it.  So, I'll be sure to let you all know!  In the meantime, make me an offer.  The ladder is not for sale, and will stay in my office until I finish painting, only because it is so difficult to move.  I am also eager to finally take a picture of how the paint color really looks.  None of these photos really do it justice.
So, this is where I am for now.  I am very excited to post again soon with an update.  You know, painted and curtains up, and maybe some other nice finishing touches!
Until then, Happy Crafting!
~Elisa