I am a "traditional" paper-crafter, so I haven't done a lot of digital scrapbooking or card-making.  I have been playing with the digital software by Stampin' Up! called My Digital Studio more and more lately, and I've really enjoyed it.
I've used the MDS software to create the blog header and buttons you find on my site, and I've made a sample scrapbook album for my recent Simply Scrapbooking Series.  However, I had never made a card and then had it printed before… until now!
This card could not have been easier.  I used a card already included in the MDS software, and just made slight changes to it.  For example, the "Happy Birthday" was a different sentiment, and I moved some elements around to accomodate the ribbon I added when I got my card in the mail.
Here are photos of the card (it's 6×6) as it arrived in my mailbox, and the card with buttons and ribbon added – also called a hybrid project.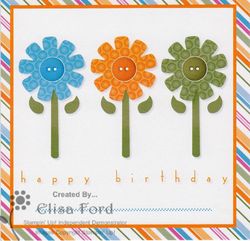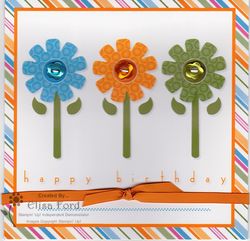 I hope you enjoyed this project.  If you want to learn more about digital desiging or incorporating digital into your traditional crafting, then contact me for more information!  I am working out details for a My Digital Studio class, so watch my calendar!
Happy Crafting!
~Elisa