My poor Big Shot Die-Cutting Machine… a few months ago, it became quite "squeaky" when turning the handle. WD40 didn't seem to help at all.  A few days ago, I became unable to even turn the handle.  Yikes!
There is a very generous 3 year warranty on these machines.  I was a month and 1/2 over that time!  So, instead I took the machine apart to see if I could figure out the problem.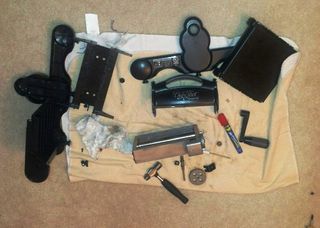 Well, I believe that I found the problem.  It was a tiny bearing inside the handle mechanism which had corroded.  I found the part online, but since I don't need 200 (smallest quantity) of them delivered from China, I just decided to order a brand new Big Shot.
After all, it's a machine I really can't live without, and I have used it so much for my personal AND business use.  I really put this thing through the ringer in the 3 years, 1-1/2 months I had it!  And with my Stampin' Up! demonstrator discount I'm only paying about $80.  Also, to make things even better, at Christmas I got a winning lottery ticket for $100, so I'm still ahead of the game!
If you love the Big Shot like I do, let me know your favorite thing about it in the comments!  If you don't have this wonderful machine and want more info, let me know that too!
Happy Crafting!