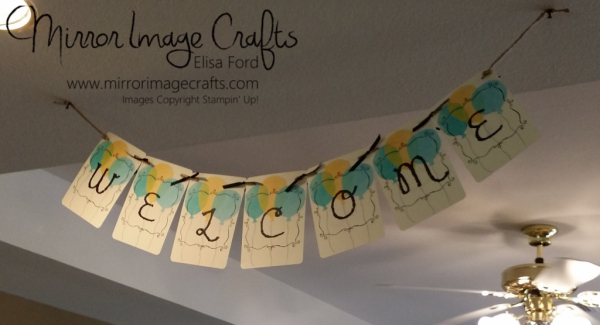 WELCOME! I love scrapbooking and making cards in MDS, but I also love coming up with different projects using this terrifically versatile software!
Today I'm sharing this welcome banner project I made using My Digital Studio by Stampin' Up! This banner was made this past summer for my New Catalog Open House. To make the banner within MDS, I used a blank template for 5″ x 7″ postcards. I made the banner to be viewed in both directions, so the postcard was perfect for that! The back of the "W" is an "E", and so on…
The digital items I used for this banner are all from a kit called Lemonade Stand, which was a download available only during Sale-A-Bration several years ago. I used a font on my computer called "Irish Spaghetti." It was a free font, but I don't recall where I got it.
Once the banner pieces were sent back to me from the printer, I used a corner rounder punch on all the corners, punched holes for the jute to go through, and tied black grosgrain ribbon (retired) as an accent.
As a bonus, since I used "postcards" to make the banner, and envelopes are included with postcards when printed through Stampin' Up!, I have all the envelopes that came with the postcards to use for sending 5″ x 7″ cards. That will come in handy!
Postcards in MDS are available in 3 sizes: 5″ x 7″, 4″ x 9-1/4″, and 3-1/2″ x 5″ – select portrait or landscape.
If you're local, I hope you'll join me for my FREE "Getting Started with My Digital Studio" class. Email me TODAY to RSVP. I'm closing registration at 8 attendees!