Well, okay, maybe not "mid-month" this time around… it is closer to the end of the month! But I wanted to share what I've been doing on My Digital Studio (MDS) recently.
I don't typically make cards in MDS. I mostly do scrapbooking or other projects. When I do need an MDS card, I usually pick a pre-designed template and make changes as I need to for the card I need.
In order to branch out a little bit, I decided on a new strategy, which might help me down the road: taking an existing "real" card I've made (or a sample "real" card I've seen) and make a version of the card in MDS.
I cranked out about EIGHT MDS cards in just a couple of hours by trying this strategy!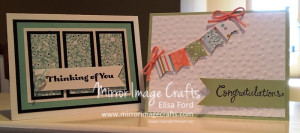 I'm showing only two in this post, so watch for more later. The two cards pictured are copies of "real" cards we will make in my upcoming Sale-A-Bration Celebration class on Friday, February 7. Visit my info page for the class to read more about it and to register.
As always, let me know if you have any questions!
(And a Happy Half-Birthday to my beautiful twin sister!)