Digital Fans! If you haven't tried Stampin' Up!'s MDS2 program, then what are you waiting for? I am fairly new to digital and I love it! I wanted to share a couple of recent projects with all of you.
If you are on my mailing list, then you will recognize this 12×12 scrapbook page from our visit to the State Fair of Texas last fall. This is one of the pages for my Ford Family 2012 Album, which is still very much in progress!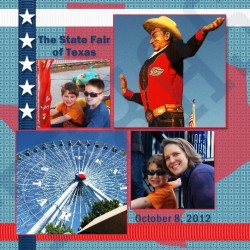 This adorable swatchbook project was one of my Christmas Gifts to Liam's grandmothers! I downloaded the Life Celebrated swatchbook template, popped in my photos, added just a little journaling and embellishments and I was done! The trickiest part was choosing the photos! There are 26 pages (including the front and back covers) so I am just showing a few here today. Click for a bigger picture:
Stampin' Up! offers a FREE 30-Day Trial of MDS2 – so you can "try it before you buy it," as they say. The program has full functionality, but a limited supply of content to sample. But you definitely have enough included in the trial to know if purchasing the full software package is for you! In addition, you can ask me any questions you might have during your trial – I know quite a bit about MDS2 — I'm even CERTIFIED!
Happy (Digital) Crafting!