In this fifth post in my "Storage Series" I share how I store my Big Shot Die-Cutting machine, dies & embossing folders.
In a previous "Storage Series" post I showed you that I keep my Big Shot Die-Cutting Machine on my craft table virtually ALL the time. So now I'll show you where I keep all the dies and other accessories handy: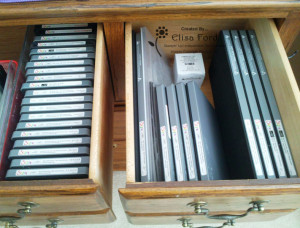 My Bigz Dies all live in two top drawers of the dresser to the side of my craft table. On the far right I keep my longer dies and the extended cutting plates that go with them. On the right side of the the middle drawer I keep all my standard sized dies and their coordinating cutting plates.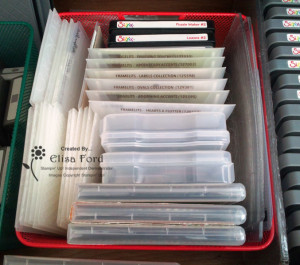 Just to the right of my dies, in a handy-dandy basket from the dollar area at Target, I keep my Embosslits, Framelits, Sizzlits, and Embossing Folders. The Embossing Folders are on the left side, facing sideways. My smaller items (Sizzlits and Embosslits) are in the Iris containers I have mentioned before.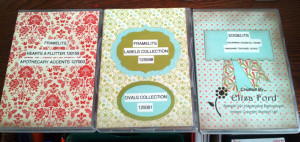 I keep all of my packaging for my Framelits (in case I need them someday) but I do take them out of the packaging and store them in these DVD cases (clear-mount stamp storage) that you can buy in a 4 pack from Stampin' Up!  I have decorated the outside of the cases with designer series paper, but you could also make a cute insert in MDS.  I plan to do that at a later date.
Do YOU have lots of dies and embossing folders? Share your storage ideas in the comments below. And, as always, let me know if you have any questions!