Wow! I've just received my Simply Scored Borders Scoring Plate and it's SO much fun to use. With almost 20 border and edge designs to play
with, the possibilities are endless. Many of the designs coordinate with
Stampin' Up! dies as well!
The Borders Scoring
Plate comes in two pieces – the plate and the clear overlay. The plate goes
on top of the Simply Scored Scoring Tool, making sure the arrow on the backside points
to the top.  The overlay goes over
whatever you are embossing (designer series paper, card stock) so that you know
where the underlying design is located.  Photo 1 shows the card stock on the board
with the overlay on top. Photo 2 shows the design I used (scallops with dots-so
cute!), which I sponged over so you could see it better on camera.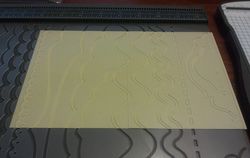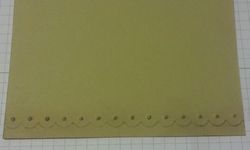 Tips to remember:
Take your time! You will get the
"feel" of the board by using it, but until then make sure you slow
down to get the best impression possible.
Depending on the material you are using and
which border design, you can determine which end of your stylus to use.
Place your card stock onto the board upside-down
for embossing and right-side-up for debossing.
Feel free to contact me with any questions about using this
new tool in your crafting!
Happy (Embossed) Crafting!
~Elisa