HELLO, Happy Stampers! Today I'm featuring a super-simple card I made using the Happy Hello Simply Sent kit – available ONLY for Sale-A-Bration (Jan 22nd-March 22nd). This kit is one of your FREE items you can choose when you place a qualifying order, or host a qualifying workshop!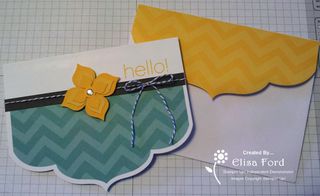 I copied the card exactly how it appears on the front of the Happy Hello package! All the supplies are included, so it took me only about 5 minutes to put the card together. I think most of that time was attempting to tie the baker's twine into a bow that looked halfway decent! Also, I lvoe the color combination used in the kit – I'm not sure I would have used Baja Breeze, Basic Gray & Daffodil Delight together!
The Happy Hello Simply Sent kit contains:
8 card bases (4 of them have the "Hello" printed on them, 4 do not)
8 adorable matching envelopes
8 pieces of baker's twine
8 rhinestones
8 sets of die-cut stickers (gray strips & 3 flower pieces)
Making the card the way it is shown on the package is only ONE of MANY ways you could put this card together. Use your imagination, and throw in any other coordinating supplies you might have, to really personalize the cards you create!
Happy (Simple) Card-Making!
~Elisa