I wanted to share yet another My Digital Studio project with you today. It's another page from my 2012 family album. My son and his Granddad (my dad) had the best time last year, planting tomatoes and cucumbers in Granddad's garden!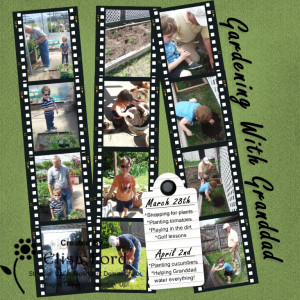 I knew I needed to fit a LOT of photos on this one page, so I came up with the filmstrip idea, building it with digital frames and photo boxes until I got it just right. I only had to build the first one, then copy and paste the other two!
If you want to learn more about digital crafting with MDS, then I encourage you to try the FREE 30-Day Trial! I will also sign you up for my exclusive 10 free tutorial videos to help get you started.  Visit my MDS Page or contact me with any questions!